Everyone knows you can put your logo on a pen or a cup, but we all know that's pretty darn BLAH!  This year, instead of handing out something barely worthy of a trade show freebie, why not find unique, memorable gifts for your clients, cohorts and prospective customers?
I'm talking gifts that speak to their industry, profession and/or business.  Gifts they'll love.  Gifts they'll keep!  And yes, these great gifts will absolutely show off your great brand too!
Professional Gift Giving Goals:
Reflect both the spirit of the season and the spirit of your business.
Intertwine your business ideals and values with theirs in a creative, memorable way!
Merry…and Bright!
It's all about finding new and creative ways to remain memorable long after the holidays are over.  You want your gift recipients to enjoy and appreciate a gift from your company.  The holidays are a great opportunity to show you care and to create a lasting impression.
So now's the time to be smart and thoughtful!
Here are some fun ideas to get you started…
Your Business: Cutting edge mobile app design.
Great Gift: Branded Mobile Charging Stations – so your clients never have to be away from their apps for too long.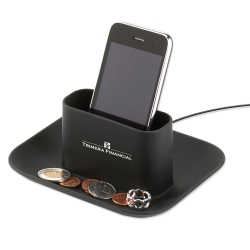 Your Ideal Customer: An upscale, luxury boutique.
Great Gift: Your logo, on fine chocolate.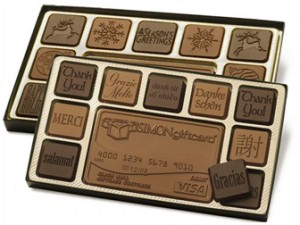 You Are: A financial planner
Great Gift: How about a simple money clip with your logo?  Useful and memorable.
Your Client: A group of beer drinking, computer loving IT people.
Great Gift: How about a branded USB/Bottle Opener combo?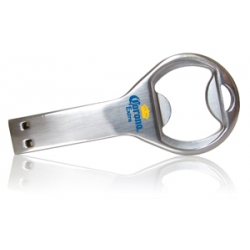 Say No to the Aluminum Tree
If you're going to give a GREAT gift, you must be both creative and authentic.  NEVER skimp on the details or the quality of the item you're gifting!
DON'T:
Be Cheap

What's the point of giving out a pen with your logo if the pen doesn't work?  Is that the lasting impression you want?  Not at all!

Be Common

Magnets, pens, buttons – BLAH.  If you want to make an impression, be unique!  Trust me, you can find quality, unique items within your budget.
The Bottom Line: Be wise when promoting your business.  Promotional items branded with your company's logo are a great way to create a lasting impression on your target audience – and the last thing you want is a lasting, negative impression!
A Boost for 2012
Unlike traditional gifts, these promotional items can really set your business apart from your competition, giving you the edge for the upcoming New Year.  Why?  Because great gifts establish brand recognition (and fast!) and, if you do it right, you might just improve your brand's reputation.
A Promotional Products Association International study from 2009 found that a whopping 83% of Americans surveyed enjoyed receiving promotional items.  In fact, 48% said they'd be interested in receiving these items more often, and 38% felt a continual association between the item and the company that sent it.
So believe me, great branded gifts are worth it!
A great gift is one that your target audience already uses or likes.  Add your logo and BAM! – you have built in marketing and brand loyalty that's more cost effective than traditional advertising!
Think about it: the memory of a banner ad on a website fades quickly, but a three dimensional item that your target uses monthly, weekly or daily creates a stronger bond with your company that lasts and lasts.
Give the right gift this season and watch your business grow in 2012!  Happy Holidays!