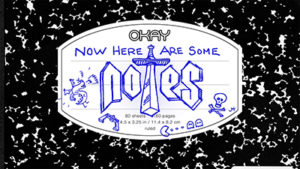 Just when we thought we finally got Robin Thicke's tune out of our heads, the melody is back with a vengeance in Weird Al Yankovic's new tune "Word Crimes"—and we couldn't be happier! Not only does this catchy parody reiterate one of our favorite topics (the importance of good grammar, yes, even in the age of the Internet), but it literally illustrates each grammatical issue with brilliance, beauty and a special kind of satirical attention to detail that is impossible to resist.
Al Nails Modern Marketing
This impeccably exact parody of the original song Blurred Lines was released as part of the effective and appropriately named #8videos8days hashtag series. Those following #8videos8days were treated to a new Weird Al video release every day for—you guessed it—8 days in a row. While Weird Al himself was a little worried the marketing ploy wouldn't go over as well he he'd hoped, he was pleasantly surprised by the overwhelming show of support.
And boy did it pay off: Weird Al's new album Mandatory Fun debuted on July 15th at # 1 on the Billboard charts—his 14th studio album was the first comedy chart topper in 50 years.
We just can't get enough of the graphics, the vocab, the messaging, the schooling, and the smashingly punny insults. Too freakin' funny and overwhelmingly clever. We congratulate Weird Al on this much deserved honor.
Big Brand Parodies & Sneaky Subtext
Besides the seamless videography and the typography masterwork, our favorite part of Word Crimes was, of course, all the big brand parodies and the awesome hidden tidbits. See if YOU can find them all!
Merriam Webster: Clearly the most obvious brand parody in the entire video. The song's title page is an obvious tribute to the dictionary, and the red and white color scheme is used throughout.
The Simpsons: This one's easy to miss, but did you notice the teacher's name on the paper of the student who couldn't conjugate? It's Mrs. Krabappel, Bart's 4th grade teacher!
Reddit: 6 months ago, Reddit user George-Newman complained, "I'm tired of people mocking me online." George Newman is the name of Weird Al's character in his signature cult flick, UHF. Well played, Weird Al. Well played.
Mission Impossible: If the "Literacy's Your Mission" graphic looked familiar, that's because it's a play on the Mission Impossible original TV series' logo.
Teenage Mutant Ninja Turtles: The Turtles tribute is easy to miss. Check out the "Never Raised in a Sewer" graphic. In the upper right corner, you'll notice two green chalk-drawn turtles. Heroes in a half shell. Turtle power!
Walmart: This might be a stretch, but we're betting the "Less vs. Fewer" graphic is Wal-Mart inspired. That iconic blue and yellow with the blurred store in the background? We've definitely seen that before.
Mead: Remember those Mead Composition notebooks from grade school? We sure do! See if you can find the 7th grade NOTES artistry in the "OKAY" notebook in the video. (…and maybe this isn't a parody, but the nod to Trogdor and Pac-Man—plus the Tron Recognizer doodles? LOVE IT.)
Microsoft Office Assistant: Who can forget Clippy, the annoying little grammarian paperclip who we couldn't close out fast enough?
Lost: Yes, you saw that right. The "Lost Cause" frame was definitely the logo from ABC network's popular plane crash/time vortex survivor show Lost.
Prince: We loved the idea that Prince is the exception to the using-numbers-in-words rule. Prince's hits include 2gether, 4ever, Nothing Compares 2 U, and I Would Die 4 U…among many, many others.
Bonus Brand Bash: that lovely LiveJournal logo! Fun fact: The logo for this once extremely popular blogging site was also designed by Jarrett Heather—creator of the Word Crimes music video.
Keep in mind, this is only our TOP ten brand parodies list—there are many other beautiful brand parodies hidden throughout Weird Al's fabulous Word Crimes video. What's your favorite? Leave a comment below!