Texas is a BIG state with a BIG personality. If you've ever been to Texas, or if you've ever known a Texan, you know that Texans love Texas. From the (perhaps stereotypical and stylized) images of big cowboy hats and huge juicy steaks, there's still truth in the sentiment "everything's bigger in Texas!" —and branding is no exception. (No, not cattle branding. Although I'm sure those Longhorns aren't strangers to the idea.)
Texas is the largest state in the continental U.S., with the second largest population, and Texas has a big brand to match. Texas may be the most successfully branded state in the country, and unlike some other states, Texans have the passion to back it up. Texas and Texans take pride in their red and white flag with that blue Lone Star, and it shows.
Texas Branding: Consistent and Everywhere
"Texas is a state of mind. Texas is an obsession. Above all, Texas is a nation in every sense of the word." -John Steinbeck, author
Though the official Texas logo has changed over the years, the basic colors (and the state outline, of course) remain the same. Think about it: not many people know the shape of every state in the Union, but lots of people know the shape of Texas! Not only that, many people can name the state's colors and convey the emotion evoked by Texans about their state brand—without even setting foot in the state itself.
Why? Because inside and outside of Texas, Texans proudly stamp their state's colors and shape on just about everything—and a great brand is consistent and everywhere!
Let's take a look at a few examples of great Texas branding…
Driving in Texas? It's hard not to notice an abundance of Texas logos! From license plates and bumpers, to bridges and highways, Texans won't let you forget you're in Texas.

The Texas flag and logo is even part of the landscape in some places.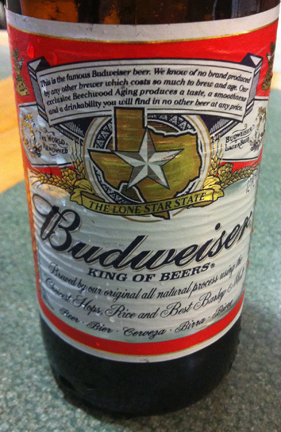 Ordering a Budweiser in Texas? Even Bud understands sales are better when they offer specially labeled Texas beer to Texans, complete with the state's logo and slogan.
The Story Behind the Texas Brand
"Texas is neither southern nor western. Texas is Texas." –Former Texas Senator William Blakley
A large amount of that larger-than-life Texas pride comes from the state's constant struggle for independence. With Europe's arrival in the Western Hemisphere, what would eventually become Texas was ruled by several nations over time, hence the phrase "Six Flags Over Texas." (This is also the name of the of the first Six Flags amusement park, founded, of course, in Texas.)
The Lone Star State was even an independent sovereign state for about ten years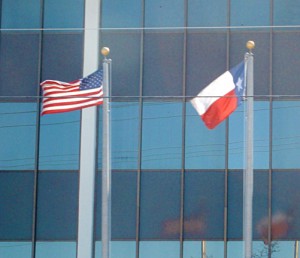 after successfully winning their independence from Mexico, and before joining the United States as the 28th state on December 29th, 1845. The widely recognized Lone Star flag was adopted in 1839 as the national flag of the Republic of Texas, and you'll see it flying all over Texas today. While many people will tell you that Texas is the only state allowed to fly its flag at the same height as the U.S. flag, this is actually a myth. However, the perpetuation of this popular story is a great example of Texan pride.
Your Turn: Brand Big Like Texas
We can all take a few lessons on branding from Texas. Texas' brand is strong because Texans take pride in their state and they want everyone to know it. The extensive political history of the state of Texas is interwoven right into their solid brand, adding to brand recognition, and reflecting that unwavering Texan loyalty. The Texas brand is everywhere inside and outside Texas, and Texans make no qualms about putting their brand and their pride on display.
It's your turn. Think about how YOU can hone in on the passion and love your clients, customers, patrons, partners, and/or your employees have for your company and for your products or services. Think about new ways to Be Everywhere, with a solid and consistent brand look and feel.
Think BIG—just like Texas!
Are you doing anything in your company that would equal to Texans big branding?  Comment below and share…we love to hear from you.