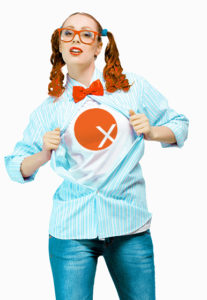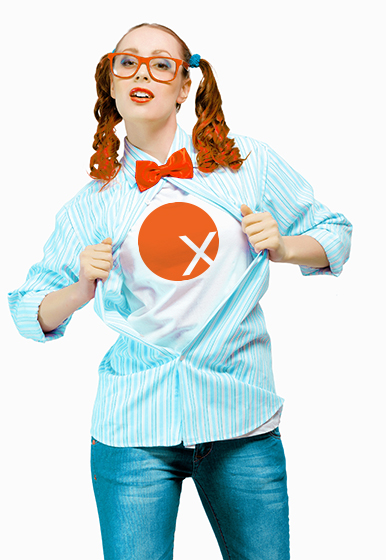 If color is your brand's superpower, then businesses that understand the importance of incorporating visually interesting content into their marketing are superheroes to their target audience. Seeing as 65% of consumers are visual learners and visual data processes 60,000,000 times faster than text—you can't really afford to have so-so branded graphics or a text-only content marketing strategy.
Check out these great ways to get more visual with your content.
Always Include an Image
Blog post? Email newsletter? Always include an interesting image, whenever possible. Get creative! We've all seen the same stock photos over and over. Look at your content from a different angle and see what kinds of clever images you can find that fall in line with your written theme.
Brand Best Practices: Whenever possible, include a unique, branded image in line with your overall brand image/brand personality. Sure, you might not have the time, the budget, or the know-how to create a new, branded graphic every day, but you can shoot for a unique branded image at least once a month. You can also have your brand identity manager or brand designer create a graphic you can use over and over again as a sort of branded signature!
Spice Up Your Landing Pages
Creating landing pages for downloadable free content is a great way to collect customer/lead information, measure the success of your marketing efforts, and gain important insights into what your target audience really wants. To nab more leads and nudge that potential customer toward your content, add interesting images—or better yet, add video—to back up your downloadable freebie.
Brand Best Practices: If you have the means to create a branded, promotional (but not salesy) video, this is definitely your best bet. By 2017, video will account for 69% of all consumer Internet traffic. If you start creating videos that back up your brand, your business and your additional, informational downloadable content, you'll definitely get ahead of the game.
Create Clear Call-to-Action Buttons
A simple call-to-action (CTA) button will win over your website visitor WAY more often than only a simple link. CTAs are great because almost anyone can create a simple version in a flash. Remember: call-to-action buttons need not be overly flowery or surrounded by a lot of additional images. You want the customer to read the button and—BAM—click the link. Just like that. Text should be quick. Try something like: Download Now! or Post Your IDEA.
Brand Best Practices: Use brand colors as backdrops for your call-to-action buttons. If you want your CTA to stand out even more, feel free to go outside your brand color scheme, BUT be sure the rest of the page design is visually appealing and consistent with your brand's look and feel.
Get In with Infographics
Infographics are the coolest, most popular way to create shareable, branded content. Infographics are, put simply, data represented in a visual format. Seeing as most people are visual learners, infographics allow people to research topics they're interested in and chomp on little bits of information that are much more memorable than just a plain ol' block of text.
Brand Best Practices: Because infographics are SO shareably delicious, creating a well-branded infographic is your ticket to more brand impressions. First off, you have the opportunity to position your business and your brand as the best in the biz; plus, you're creating more opportunities for businesses and consumers to check out your company online. Finally, if anything, you're creating a subconscious brand impression on your target audience, and that little hint of recognition could benefit you and your brand in the long run.
The Eyes Have It
Well, there YOU have it: creating visual content is a great way to get your potential and current customers hooked on your content. Creating awesome well-branded content impacts your target audience at multiple points in the buy cycle, ensuring your brand remains memorable when they're looking for your expertise and/or ready to buy!